Ode
The Battle of the Bulge
The 101st Airborne, while on "R & R" in France alter leaving Holland, received word on December 17 of the German attack in the Ardennes. Immediately, the division boarded trucks and made the difficult journey to Belgium, through frigid December snow. They had left so quickly that some men were not supplied with winter uniforms. The first units arrived in Bastogne on December 18 and the division was fully deployed by the next day. Cloud cover prevented urgently needed supplies from being dropped to the Allies. Bastogne was totally surrounded. The Germans sent terms of surrender to General McAulliffe on December 22 to which he famously replied "Nuts!" The next day, the skies cleared, supplies arrived, and the German attack was repulsed with the aid of Allied air support. By December 26, it was clear that the Allies had prevailed. Mopping up operations continued through January, and the Allies prepared to advance into Germany on the final push to victory.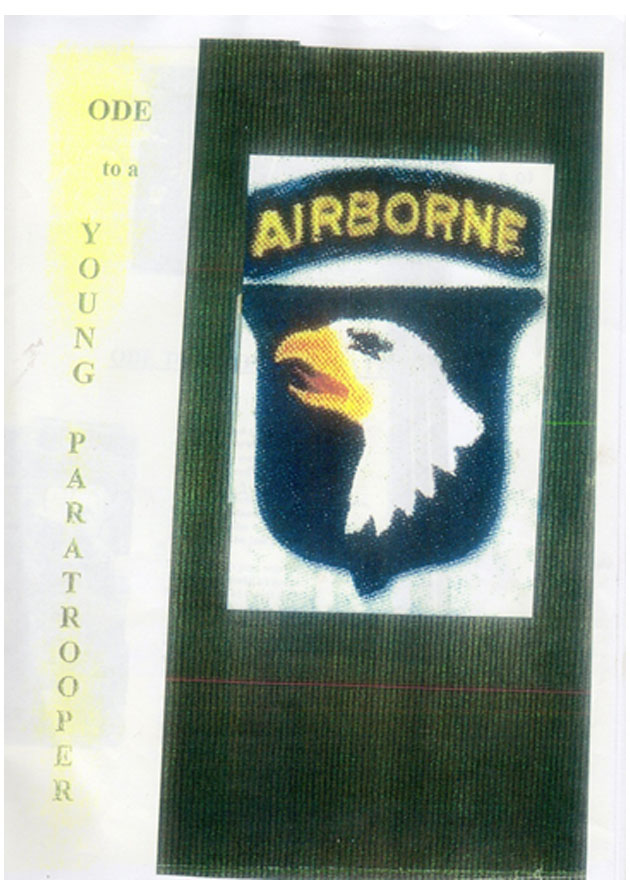 "Man, it's cold," McAuliffe complained
To his shivering boys, who agreed.
"Never mind," he encouraged, "the work will not stop"
Till Bastogne is saved and is freed.

Supplies were quite slim, as our planes dared not fly,
Though bullets could've run out too soon,
Rations were meager, warm clothing as weIl –
Oh, where is a plane that might fly by the moon?

The snow was crusted on the top,
So walking made small crunching sounds.
If anything stirred in the least, in the brush,
It was just that spy making rounds.

The silence was disturbing –
Too quiet to be true,
Tensions mounted higher yet,
When the whole darn thing just blew!

Tanks had appeared out of nowhere
With a grinding and hideous noise,
And were edging their ways to snuff out a life,
Believe me, their tanks were not toys.

Thank heavens the foxholes were ready,
Or the toll would've been worse than it was,
They knew they were there, had a purpose, oh yeah-
Jump in! Duck your head like the other guy does.

Cannons exploded with vehement ire.
Their intent was to trap as they did much too long.
Some eardrums were shattered, a horse ran off wild.
At Christmas they prayed for the ones who were wrong.

Oh – the General received a message one day;
This man we remember as a real man with guts.
An honorable surrender like that asked of him,
So angry, indignant, loud and clear he yelled "NUTS!"

The very next day, the cloud caver cleared,
And the sky woke up early and bright.
Our planes flew again, so supplies reappeared.
Was it nearing the end of the fight?

Bastogne smiles today with jubilance renewed,
Happy once more, they all dance again.
The Germans held on quite a while, tried their best,
Then scattered and left, worried men.

A bugle still blows for the lost,
As the Battle of the Bulge is won.
Get ready to leave for Germany.
Well, mopping up here must be done.

Try not to look back at the blood-spilt ground.
Tears are sufficient, you know.
Your buddies will ever live deep in your heart,
And they'll find you wherever you go.

We've got to say 'bye to the girls,
Thank the Mayor and everyone here.
They helped us a lot when the going was tough.
We will shake hands again, never fear.


ln March, 1945, General Eisenhower awarded the Distinguished Unit Citation (now the Presidential Unit Citation) to the 101st Airborne for its stand at Bastogne.

Ode to a Young Paratrooper - 2010
Ode by .Jeanne J. South (née Steed)
USA. N.H., CT, 1919- Wiltz. Luxembourg

As inspired by a conversation with Donald Rutter of the 82nd and 101st Airborne Divisions at the Commemoration Ceremony in Bastogne, Belgium, to pay tribute to the American soldiers who gave their lives to free that city during World War II.

This page was checked by Ellen Knight, thanks to her.
ODE À UN JEUNE PARACHUTISTE
He had placed the fragrant flowers
At the Eagle's monument.
Honored, he was chosen
For that sacred compliment.

Those years before when called to serve,
So young to stand in line,
Ii wasn't in him to be scared,
He said he'd be just fine.

But the tough part was to leave behind
The ones he loved so much.
He never could forget the time
He sought their gentle touch.

They promised frequent letters,
"Ya know", shore up his morale.
He told them straight out
He'd be back in one piece, full control.

"SO LONG", he finally shouted
As they waved him out of sight.
So many words were Ieft unsaid
To haunt them through the night.

Indeed he stood in line
Next to his "buddies", side by side,
Whose valor one day would be known
And touch his heart with pride.

He learned, he trained, he turned in tired.
His muscles felt the strain,
Yet paratroopers do not flinch;
Their job well done was worth the pain.

The mail got through, the fight fought on,
His folks said prayers for him.
He hadn't time to write to them.
GOD KNOWS, that battlefield was grim.

He did come home to those he loved.
They looked a little older,
He favored them with his great, broad smile.
He was their favorite soldier.

If there were more that he could tell,
His silence told it all,
His eyes would sadden, search the sky,
Again that "boy" who didn't fall.

You may think this ends his story.
Think again, it's not "Good-Bye."
Just get to know him for a while
And you'll find the reasons why.

Based upon description from a letter date january 20, 2010 from a WWII paratrooper, at the time with the 82nd Airborne Division. He wrote of his jump over Normandy on D-Day, and related incidents.

Like eagles swoop with out-stretched wings
Toward earth, they saw below.
The object of their swift descent
Play "catch", march to and fro.

A foe, unaware, caught by surprise.
As prey might deem it fate,
Unless, clairvoyant, thought to hide
Just to find it all too late,

The Allies planned a strategy,
"D-Day" would be its name,
There's not a single one today
Who doesn't know ifs fame.

Decision! June 6, '44.
Was set to end the blight
Imposed upon humanity
By one man's hateful fight.

In secrecy details emerged,
Their facts safe, concealed,
The Paratrooper knew his role
Was fraught with danger, that revealed,

Anticipation hugged the night
Before the "jump" would be.
He couldn't wait to start that DAY
And feel the destiny,

There wasn't haze to mar the day
Before the dawn, just dim,
Well harnessed to his chute, he knew
The rest was up to him,

Again he stood in line,
And he was waiting turn,
He wondered "Is this really me",
Or have I more to Iearn?

It looked like angels in the sky,
American Airborne.
The many safely reached the ground
But others bloodied, torn.

He knew the war was truly just,
It had to be like that,
It never would be fought for naught,
A futile, drawn out spat.

He sensed a victory in the air;
A triumph to be ours,
The enemy shall run away
And he who led them cowers,

Flashback
Over Sicily and Italy
His combat jumps look place.
He saw "first hand" what war is like
What Normandy may face.

He counted seconds in the plane
His nerves were sound and steady;
No queasiness at all this time,
So he told himself, "GET READY."

He felt a gush of strong, wild air –
His jump was underway,
Split second, free-fall, quick to end
The chute now has a say.

It wouldn't fail him, let him down,
It had him tethered, tight.
Together, they would soar aloft
Like one big giant kite.

The chute, in concert with his brain,
Billowed out into its shape,
In peacetime, this was splendid sport,
But in war, 'twas no escape.

Each trooper felt the same, that day,
Quite fït, no qualms nor fear.
Reality, no matter what –
None balked at dangers near.

A kind of peace swept over him,
For sure, not there to stay.
Yet he was glad to leave the plane
Alone, and on his way.

Barrage balloons took over
To protect our many ships,
An awesome sight it was to him,
The carefully choreographed steps.

Shot at by the enemy,
Their plane, sad hulk, struck down,
Where it lay in a fiery graveyard,
Not far from a seaside town.

The young one of our story line
Landed safe among the trees.
On level ground, his vision sharp,
Alert to what he sees.

A scene of chaos framed a field
Of wounded flesh where lives were spent,
" gallant Iads, brave soldiers all,
We shall not Ieave you here, unkempt."

He wasted not a movement
That released him from the chute.
The straps that held him high up there
Let go, no more his suit.

He couldn't do a single thing
To help those boys in need,
Save "carry on" as they would want:
Their sacrifice then took the lead.

His chute then shed, and weapon tensed –
Had he heard the cricket's click?
To fool an enemy is hard;
Locations "blown" may be too quick.

The village of Lavonges
Was the closest one to us.
Our action, most at daybreak,
When snipers stirred up a fuss.

Faint galloping a distance
Soon would thunder in my ear.
An enemy rode his noble beast
That bristled, too, with fear,

How sad if was to see them fall.
'Yet we must kill a man.
To compare their worth in times like this
Demands compassion if we can.

The lieutenant in command made the decision to head towards the importance the important town of St Mère Èglise, about 8 miles from where we landed.

We pushed on towards St. Mère Église –
We dare not fall apart.
Our effort didn't do the trick
So we turned back to the start.

We kept shooting and were shot at
Ducking bullets all the day,
When a bullet, gee whiz, went past my head
To find a mark, and stay.

It got the Lieutenant in the back,
By luck, still able to walk,
He decided we'd return near Lavonges
Without any questions nor talk.

Back there we were digging some fox holes.
Dig some more? Well, that might be good.
One of the eight had deeper to dig;
He towered over us when he stood,

Before we had time to leave where we were,
Our position was then overrun.
They gave us no rest, albeit they found
We fought hard before we were done.

We knew right away when captured
It meant we were prisoners of war,
But the captor knew not our faith was in God,
T'would suffice and would free us – and more.

They bore the brunt as prisoners
And the sting of friendly fire.
You could say that they kept the faith for real
As they clung to the news "on the wire."

When the prison door swung open,
We shouted loud with glee.
Our flag again was flown on high
For the job was done, and we walked out, free.

They sent us back home
Now that Peace was at hand.
We were greeted by townsmen
And a nifty brass band.

He was met at the station
By a small eager crowd
Two slaps on the back
And "We love you", out loud.

Of course, there were Mom and Dad
And a very pretty maid.
Remember – he had told them –
"Don't ever be afraid."

We can't say enough on this subject:
Our One-Hundred-First Airborne:
Acclaimed and respected forever
As the boys who saved Belgium's Bastogne.

No matter which way it would take them,
Camaraderie paced right along,
They were boisterous sometimes, with infectious laugh,
Known to even break out with a song.

They tuned up their truck just to busy their minds,
Knowing well coming up was the test
Of what sort of stuff they were made of.
Believe it! They sure were the best,

Not once did they think they were heroes;
To realize the goal was the call.
When Europe said "No" to a menace
As pledged, gave their Iives, not their soul,

Memorable and historic, their jump on D-Day
And a staggering loss of life.
So many met death with a chute, sagging, limp.
They were gone, lost to us in the strife.

Those who were spared dug their heels in the ground
When they landed, still able to fight.
Wounded or not, they were ready to go,
Keep on goin' with all of their might.

Some gliders beached along the shore
Of seashells crushed, disturbed,
As scrambling youth, foot deep in sand
Took to the hills without a word.

They joined the rest to fight out there.
They captured bridges, held them fast.
Their enemy fled cities, towns,
Were seen no more; they lost at last.

Cole the Lieutenant Colonel
Commanded his men "Take a look!"
That's the farmhouse we have to attack
"Right now! Take back what they took."

So Cole charged ahead and therefore, behind,
Were his soldiers, sensational guys.
They fought just like ONE, and win it they did.
And the enemy gave up, surprised.

They emptied the farm house and let it be known
"You are prisoners of war; that's not us."
So out of respect the grumbling then stopped,
They were led away without a fuss.

The Congressional Medal of Honor
Gave Cole an abundance of fame.
So numerous pages fill history books
That trumpet his life and his name.

ln WAR
Eventually sometimes comes;
Just why or when, we don't know.
But when it does and signifies NOW!
lt's time to get out and GO!

Put a move on it, guys! We're getting' out NOW.
Too many dead; the list is too high!
Come on. Come on, don't stand there and stare!
Would ya rather stay here and die?

Flying out in particular haste,
Each sighed in relief like a kid,
But superimposed o'er the rest of their lives
Were horrors boxed up and shut tight with a lid.

They were glad to be back in England.
See their tents in a very neat row.
Nonsense and laughter: a fine R&R.
And training took on a new glow.

The 82nd and 101st Airborne jumped simultaneously in broad daylight over Holland on September 17.1944 in Operation Market Garden.

When they jumped over Eindhoven, Holland,
Market Garden brought throngs to the street.
More than one Paratrooper fell in love at first sight
With a girl he was plannin' to meet.

There were two who even married;
Spent a few happy days together.
When grief came to her with the news he'd been killed,
She ne'er gave her heart to another.

Creative, the Dutch, when hiding our boys
From the eyes of the search of the day.
Doors hidden by cupboards that were flush to the walls
Had closets behind; hence all great "hide-a-way."

They maneuvered "Hell's Highway," tackled the Rhine.
It didn't stop there, not at all.
Huge battles, galore, rough skirmishes, more –
Were they there for the very long haul?

It showed that they were, no stone left unturned.
They saw they'd done all they could do.
Not long after that, that scene much improved,
They left in a confident mood.