The quarry
Sculptor ... volunteer ... at the quarry «Gustave Delperdange.»
The quarry « Gustave Delperdange » is now called « Carrière sur les Roches ». All the work was done there, just behind the laboratory.
The manager and the staff have shown an exceptional kindness and patience ... They have done their utmost to help Robert the best they could in the hope of a complete success. They provided him with all their infrastructure, bringing him the stone with a bulldozer, after having leveled the place where Robert wanted to work in peace, a little away ... To prepare the transfer of the eagle to the Mardasson , they built a real boulevard, without any hitch. Robert thanks them very much.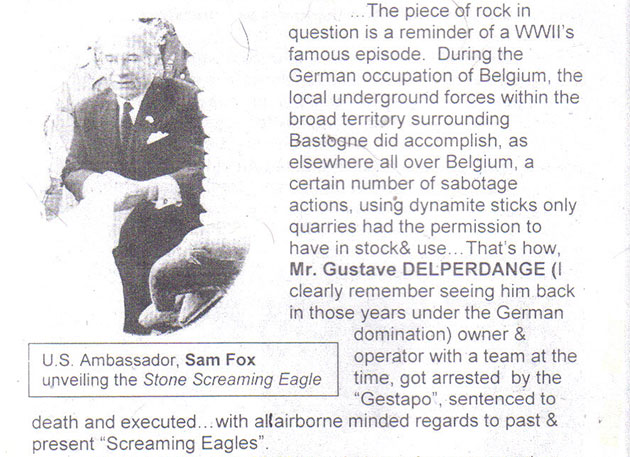 Sponsoring of the population
Without a minimum of tools, nothing can be done.
This is why Robert had to ask:
Material assistance to many people, especially diamond discs, sanding discs, reamers (to work out the details: eyes, claws, tongue, etc.)., masks to protect himself from dust ...
Full of little administrative or other services, including translation of various correspondences, composition of videos, power point about the statue, transcription and interpretation of the song «The Boys and Bastogne», meetings and contacts with several veterans thanks to André Meurisse who lived this battle and is the best in this field, Joel Denis was in charge of the website.
Aid received
With the help of
the Mayor and Deputy Burgomaster of the City of Bastogne and his college
the Administrative Services of the City of Bastogne
the Works Department of the City of Bastogne
HE the Ambassador of the United States in Brussels and his Services
HE the Ambassador of Belgium in Washington and his services
the Screaming Eagle of Fortcampbell, its services and chiefly their Color Guard
the American cemeteries of Neupré and of Henri-Chapelle
the 1st Field Artillery Regiment of Bastogne
the 4th Engineer Battalion of Amay
the Public Service of Wallonia, Liege Department
the Syndicat d'Initiative de Bastogne
the Merchants Association of Bastogne
A lot of friends and merchants in and around Bastogne , mainly Roby Clam